This recognition is a testimony to our continuous focus on exceptional service delivery through the Purpose-Built model, which is shaped around fulfilling bespoke client requirements.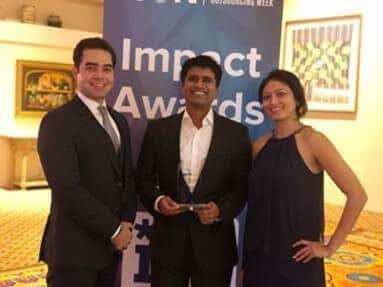 Photograph from 2019 award ceremony,
2020 was a virtual award function.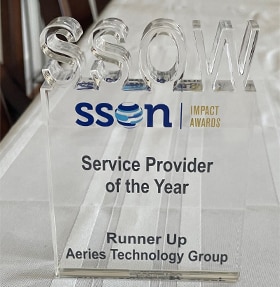 Mumbai / Raleigh: 1st September 2020: ATG, a leading Global Business Service provider of Technology, Transformation and Business Process Management solutions, announced that it has been recognized at the Shared Services & Outsourcing Week 2020 Impact Awards, for the second consecutive year. Declared as a runner-up in the 'Service Provider of the Year' category, the award recognizes the partnership approach that ATG employs with its clients, to help them improve processes and apply cutting-edge technologies to bring in process and cost efficiencies.
SSON's Shared Services & Outsourcing Impact Awards is a globally recognized, annual industry awards ceremony, which honors and celebrates shared service centers and service delivery teams and the providers who have exceeded industry standards in their Shared Services & Outsourcing initiatives.  The winners were decided by a panel of leading executives across multiple industries.
Mr. P.A. Sudhir, CEO, ATG said, "We are proud of our achievements and continue to drive innovation for our client partners, through our delivery model, which helps achieve enduring cost efficiencies, operational excellence and value creation."
Mr. Ajay Khare, CRO & COO, ATG commented, "We are really excited and delighted to receive this award, this is the second year in a row that SSON has recognized us. While last year, we were recognized for our business transformation impact, this year we have taken it one step further, and have emerged as a winner in the much broader category of Service Provider of the Year. We are confident of continuing this journey and helping our clients achieve their goals." 
About ATG
ATG is a leading Global Business Services company enabling organizations to manage their technology & business operation requirements under its unique "Purpose-Built Model". Our engagement offers our customers best-in-class solutions through skilled dedicated resources, technology, infrastructure, and leadership support. As a trusted partner for our clients, we provide integrated solutions to solve their most difficult business challenges through a focus on operational efficiency, speed of implementation, and strong project management skills to help solve business challenges and improve performance across their business. To know more on our services, visit www.aeriestechnology.com